Hayderr. So last night's Glee episode was….interesting. A bit painful. It was a lot of things. It was also pretty good. I give it a 7 out of 10. It was also a huge hint of what's to come. But more on that later. So here's what happened on episode 4×03 'Makeover'…
It starts outs with Blaine in the hall. He signs up for many clubs (like seriously over 10) like superhero club (where they dress up and 'battle' each other. That is where that pic of Blaine dressed as Robin was from) and some fantasy club where he was dressed as some wizard…maybe Gandalf or Harry Freakin' Potter, LOLOLOL? This is Blaine's way of coping with Kurt's absence. Awwwww. But he always has a smile on his face in the clubs, so I guess its working. We also see a quick clip of him and Kurt (via Skype) watching a movie. It was cute because Blaine offered Kurt on the screen some popcorn. <;3 During this whole thing, Blaine sings 'Everybody Wants To Rule The World' by Tears For Fears. That was my favourite song of the episode. I love Blaine. At the end of the song, he signs up for Class President. The only other name on the list is Brittany, who actually comes up and sees Blaine writing his name. She looks upset and maybe even a bit scared. I'm glad Blaine's running. He's smart and actually cares for issues.
Over in NYC, Kurt is getting ready for his interview at Vogue.com. He's heard some pretty scary rumors from people about Isabelle (played by Sarah Jessica Parker), the boss. But at the interview, she seems nice and a bit flustered. If you saw the clip from a few days ago, you know what I mean. Kurt talks about the outfits in his portfolio and Isabelle seems impressed. Then she asks him about his dreams, and he brings up Broadway. But she doesn't judge him on his dreams and in fact, she tells him that it's good to dream big. and maybe that will help give the company a big new look. So Kurt gets the job!
Back at McKinley, Brittany asks Artie to be her running mate and VP (hey Kay H, you were right! There are VPs). Last year there was no VP mentioned so I had doubted it. Anyhoo, Artie agrees. He wants to do something great in his Senior Year so helping Brittany win is good enough. He also wants a girlfriend. I think RM said that Artie will get a lady this season. Who?
In the choir room, Will is seriously out of ideas for ND, though he tells them different. But that topic is quickly ended when Brittany gets up and announces that she's running for Prez. Plus she throws some insults at Blaine in there to intimidate him. Artie helps with that. So far Brittany's team is winning.
Will is really stuck for song/theme ideas. In the staff room, he's thinking up some lame ideas when Sue comes in. You know what I've noticed? I've noticed that when Sue and Will have a conversation, it's filled with so many insults that I lose focus of that the conversation originally is. For example, in this scene, Sue tells Will that he'll turn into a fat alcoholic soon. But the point of the convo is that Sue thinks Will should get a new job because he is done with the one he has now. No Will, don't quit! He looks as though he's considering it.
In the hall, new pals Sam and Brittany are talking. Sam asks why Brittany didn't pick him to run with. Brittany says she doesn't want to ruin their friendship, which makes sence, I guess. But Brittany takes Sam over to Blaine and 'introduces' them. Then she gives Sam to Blaine as a running mate. Sam says the fact that he's poor, not gay and cool will get them lots of votes. So Blaine agrees. And Brittany challenges them to a debate. It is on!
At a Vogue.com meeting, Isabelle and her workers are thinking of new ideas. She suggests leather and some horrid leather ideas are thrown out. Kurt is there but as an intern, doesn't get a say. But Isabelle sees his face and calls him into her office. She tells him that all the ideas suck and he agrees. But Isabelle's issue is that she can't say no to anyone and is scared she'll get herself into such a mess that she'll be homeless eventually. But Kurt calms her down and say's he'll try to help. And if worst comes to worst, she can live with him and Rachel. 😛
Artie and Blaine quiz Brittany and Sam. I see now why it's Blaine doing the quizzing…Sam need the help. As they quiz and Blaine helps Sam dress in a suit, Sam and Brittany sing 'Celebrity Skin'. I have to say that after hearing the song a few time, it's not that bad. It's actually quite catchy. Not so catchy that I'd download it, but I don't hate it at all. Plus, Brittany and Sam are good singers. So after the song and new look (Brittany gets glasses), it's debate time!
Because they won Nationals, McKinley gets to host the Show Choir Committee Meeting. Guess who's back? Mr. Rumba from that deaf school! Man, he was so funny! Fun fact: the guy who plays him is actually a writer on Glee. True chizz. Anyhoo, the committee (all four or five of them) talk about arts funding and how it is still dropping. Soon, there will be none. Will says he wants to change that. The scene ends with his thinking face.
In a dance class, two girls tease Rachel. They're mean. So back at their barn-like house, she vents to Kurt. And he, always being the wise one, says that she still acts the same because she still dresses the same. Though I must admit that in the last two episodes, she seems to have lost the knee socks. So Kurt has an idea that will benefit them both. That idea is a makeover. Kurt takes Rachel to his work place. Or rather, sneaks in because it's after hours. But they're caught by Isabelle and two guards. But Isabelle is cool with Kurt and once he explains that he simply wanted to give Rachel a makeover and film it, she agrees and even offers to help. And that, my friends is how Isabelle, Kurt and Rachel end up singing together. They sing a mashup of 'The Way You Look Tonight' by Frank Sinatra (not Michael Buble, Mom) and 'You're Never Fully Dressed Without A Smile' from Annie. The song is meh for me, but it was stuck in my head all day. In my opinion, if it gets stuck in my head, it's not half bad. :S As they sing, Rachel tries on many dresses, all which are large and extravagant and lovely.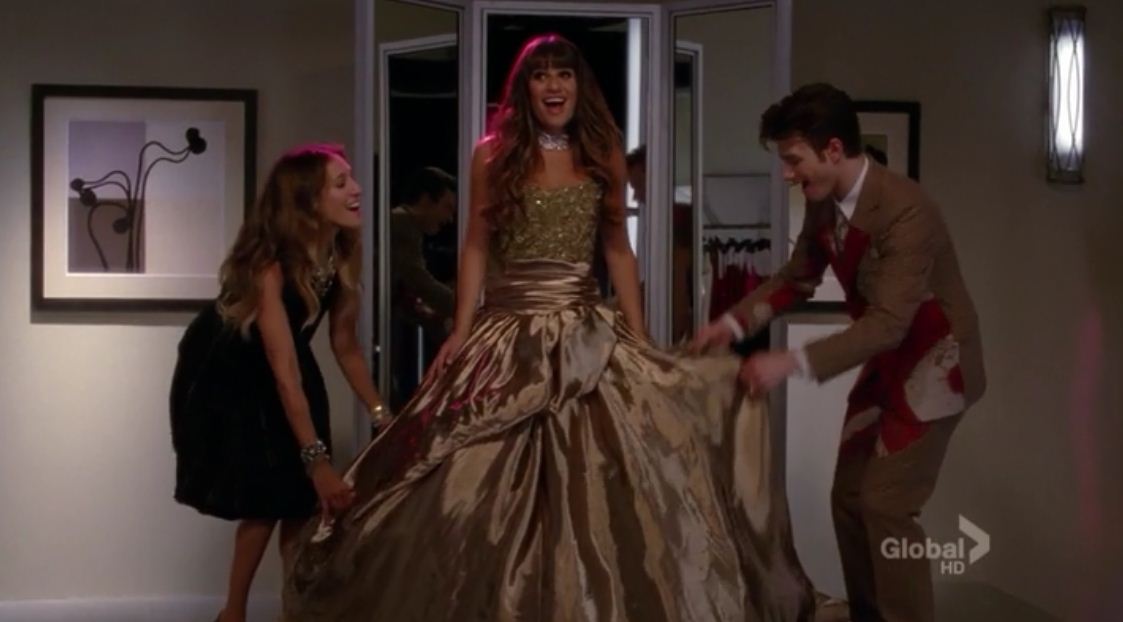 After that, Kurt showed the video to Blaine on Skype. He says it's good and that Isabelle will love it and for sure pick it for the site. Kurt then tells Blaine about how after the video, they all went out for dinner. Blaine says that while Kurt's hanging with fashion legends, he's hanging with an ex-stripper. That leads Kurt to ask how the campaign is going, which Blaine says is going good. Then Blaine asks Kurt to help pick which bowtie to wear. He's narrowed it down to five. Typical Blaine. But instead of it being a super cute Klaine moment like all us fangirls were hoping for, Kurt says anyone will do and starts blabbing about his job and the video. Blaine looks so sad and hurt and I'm sure that everyone just wanted to hug him. I must say that out of the whole cast, Blaine's sad faces are the best. And by 'best' I mean 'worst because they make me sad too'. 😦
Will has a problem and so he goes to the guidance office and seeks the advice of the guidance counsellor and not his fiance. So Emma agrees and sits down and Will tells her that he wants to apply for the Blue Ribbon Panel For Arts so he can try to get back funding for the arts. How noble. The downside? If he gets it, he'll have to leave the school for a few months. And that means he'll have to leave ND. I thought he'd ask Emma to take over…. She says that it's a great opportunity and so Will signs the application.
It's campaign time! Before they go on, Sam suggests that Blaine ditches the bowtie and he does. And he likes the look. UM WHAT? NO! BOWTIES ARE BLAINE'S SIGNATURE LOOK. YOU JUST CAN'T DITCH IT. THIS BETTER NOT BE FOREVER, BLAINE! So first to speak (to the crowd of about thirty kids and Sue) is Artie, who rambles on and I'm almost positive he didn't take a breath once. Then it's Sam's turn but he must have tuned out because he says he agrees with Artie, which is the wrong thing to say because Artie is the opponent. Then Sue turns to Twitter questions. She asks Sam if he is ashamed of his stripper past. Sam says no then does this…
That's for you, Rebecca Ripple ;). Blaine doesn't look thrilled but he isn't as mad as you'd think. Then it's Blaine's turn to speak. He compares Brittany to a tyrant. He also says she was a useless president and she cannot tell people what they can or can't in their hair. I guess that hair gel ban in 3×19 'Prom-asaurus' really hurt him bad. Blaine clearly knows what he's talking about and is obviously the best candidate. Any sane person would be right to vote for him. Brittany's speech is…interesting. She begins by saying that she loves everyone and school. So she promises to ban summer break and weekends so school can go on forever. Artie is sure they lost. Duh.
Isabelle calls Kurt into her office. She says she loved Kurt's video and sent it in to Anna, who is the boss of the boss. She sent back a one word email. That word was 'great'. That's as good as it gets so Isabelle is thrilled. I guess Anna is more of a bossy boss than Isabelle. I mean, who cries to their intern about the possibility of being homeless? The answer is Isabelle. She says that Kurt has potential and skill and can even come to the meetings and do more than silently hand out paper. Yay for Kurt.
In an empty dance hall, Rachel is stretching. Brody comes in and they talk about Rachel's new look. Brody appreciates a good makeover because he tells her that once upon a time, he was a skinny kid with a uni-brow. That's a funny mind picture. Then they sing 'A Change Would Do You Good' by Cheryl Crow. We see them running around on the streets and taking silly pictures and having lots of fun. -__- At the end of the song, they're in kissing distance…again. Then Rachel invites him over to her place so she can cook him dinner. :S
Sue, over the intercom and opened by Becky's signature xylophone playing, announces the winners of the election. But it's cut off so us viewers can't hear. Okay. Wait a minute. Last season, elections started episode 3×02 and the winner was announced in episode 3×09. But this season, it ALL happens in less than an episode? Right…. fail.
But we find out who wins soon enough because there's a huge party. Blaine and Sam win! Yay! There's confetti and music and fun. Artie congratulates Blaine and Blaine offers to give him a position in his party. Artie declines because Sugar asked him out. So Rory is gone and Sugar goes to Artie…. Artie leaves and Sam comes over. Then Sam says that Kurt must be super happy for Blaine and he says that he is. But then Blaine tries to call Kurt. We see Kurt talking with Isabelle and some other workers and he ignores the call….purposely. NO, KURT. PICK UP! So Blaine looks super sad again. He tells Sam that he did all of that for Kurt who is gone. Poor Blaine. Its' sad because it's true. But Sam cheers him up by saying that he and Blaine are pals and he feels comfortable with him. Blaine smiles and walks away, just as Brittany comes over. She sits with Sam and he tells her that he voted for her. She hugs him and says he always says the right thing. Okay seriously are they gonna date or something? Now that I think about it, Santana was the one who admitted to being a lesbian. Brittany could be bi for all we know….so maybe? I guess they'd be cute. Maybe.
So Sue did something nice. She wrote Will a great letter of recommendation so he could get the job. We all know it was just so he could go away but we all also know that she is being nice. Will thanks her.
At the Berry-Hummel residence, Rachel is trying to cook dinner that ends up catching fire and burning. She puts out the flame just as Brody comes over. They order a pizza and talk. They end up sharing secrets. Dorky things not juicy secrets. But it's funny. Then Finn's name comes up. And Brody sticks by his 'hands off' rule. The Rachel kisses him. She does. And just as the kiss gets a bit heated, there's a knock at the door. Guess who? Finn Hudson. I cried. A tear fell out of my left eye and I teared up. If you've read some of my other posts you know that I don't cry at all when it comes to TV or movies. So this was huge. AND IT HURT. Why Rachel? WHYYYY? And you wanna know what the worst thing is? I can't even hate Brody for it! It was Rachel who kissed him. It was Rachel who put the first hand on. It was all Rachel. And I knew the second that I heard the knock on the door that it was Finn. Not to mention the fact that my dad had a field day rubbing that in my face.
So that's it. The episode ends with Rachel seeing Finn at the door and Brody in the background. See, like I said, the episode was pretty good and had some crazy moments. Oh, and who's wondering about that song, 'Mister Monotony'? Yeah well here's the story: I don't know. I have literally no idea. It was never released. So you'd think it was all fake, right? But alas, it's not. On iTunes, if you search it, it'll come up as a Tone. And if you have the new update, you can listen to twenty or so seconds of it. I used my brother's iPod and did just that. So it exists but I have no idea why. What are your thoughts on the episode?
Next week. Oh man. Be ready. Next week is the dreaded episode 4×04 and it's called 'The Break Up'. It's still not known which couple(s) break up but it's a fact that every couple is hurt: Wemma, Klaine, Finchel, Brittana and even Jake/Kitty. Wemma's drama is from the fact that Will gets the job and will have to leave. Klaine's is because Blaine visits Kurt in NYC because he thinks Kurt's job is breaking them apart. Finchel's is for the obvious reason. Brittana's is unknown (maybe Sam has to do with it?) and so is Jake/Kitty's. Here's the promo. Get your tissues now and try not to cry.

NOOOOOOOOOOOOOOOOOOOOOOOOOOOOOOOOOOOOOOOOOOOOOOOOOOOOOOOOOOOOOOOOOOOOOOOOOOOOOOOOOOOOOOOOOOOOOOOOOOOOOOOOOOOOOOOOOOOOOOOOOOOOOOOOOOOOOOOOOOOOOOOO. I can't deal. GAH. Okay well the song Finn sings is 'The Scientist' by Coldplay. Rachel's last line is hurtful but it's obvious it's not in that context. It's been edited so it sounds like that's all one sentence. Ten bucks says it's not. Ryan Murphy says it's the best episode of Glee ever. The rest of the life says it's the saddest. At least all ships can come together on this one. 😦 Plus, after that episode, there's a month long hiatus. Be aware.
And because you're already crying so let's add on to it, here is the sad sneak peek video.

Blaine….Kurt….Teenage Dream….NOOOOOOOOOOOOOOOOOOOO! This is THEIR SONG. And why is he singing it? Why? Why am I near tears? Why is RIB so mean to my heart? WHYYYYY?
I'm done. See you later.
P.S. For all you Starkid fans out there like me, my pair of pink Starkid glasses came in yesterday. 😀 Yes, I do all my shopping online. Deal wif it. XD Anyways, my glasses are totally awesome. Just thought you should know. And I wore them to school.